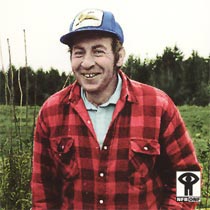 Photo used under permission from NFB
Leo Naugler is one of Nova Scotia's best known and loved folk artists. He is the youngest of the Naugler boys and was featured with his artist brothers Ransford and Bradford in the National Film Board's award-winning documentary Folk Art Found Me.
Before beginning to create folk art in 1988 he owned an automobile body shop. Many of his works were featured in a Cross Canada Exhibition in 1996. His zest for life and humour come through his carvings and paintings. His quirky art and vibrant colours are an absolute joy. His works continue to be very sought after by collectors of Folk Art. His works are in collections around the world such as The Art Gallery of Nova Scotia and The Museum of Civilization.