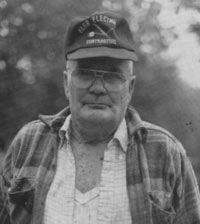 Considered to be one of the prominent "Elder" American Folk Artists his work can be found in the Museum of American Folk Art in New York. R.A. Miller now lives on the same property he was born on although not in the same house. The original family house was destroyed by the tornado of 1936 that killed many people. He later married and found religion and started preaching at Revivals all over Northwest Georgia.
He started to create art while in his late '60's after experiencing problems with his eyesight. He is best known for his tin cut out figures. His subjects include flags, devils, roosters, and Uncle Sam. His paintings on wood or masonite often include dinosaurs along with a religious message. Some of his artwork has also been used in the music videos of the group R.E.M.

R.A. uses a hammer to flatten discarded gutters and cuts out pieces of tin roofing to make his cut-outs. His unique contribution to American art is well covered in the books Light Of The Spirit, portraits of Southern Outsider Artists (1998) Goekjian/Leacock and Fine Folk: Art'n'Facts From The Rural South (1990) Perryman/Smith.